Constitutional Hardball Roundtables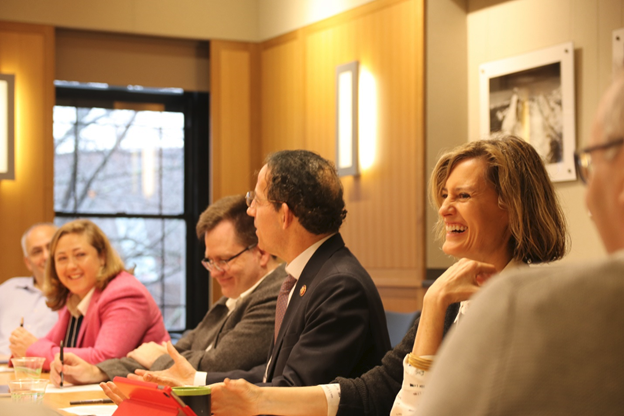 The third Bright Line Watch con­fer­ence, "Constitutional Hardball Roundtables" (co-sponsored with the Weatherhead Research Cluster on Challenges to Democracy at Harvard University), was held at Harvard University on December 13th and 14th, 2019. The round­ta­bles brought together leading scholars, politi­cians, and jour­nal­ists to discuss how the descent into con­sti­tu­tion­al hardball affects American democracy and how best to respond to it. The questions addressed by the panelists included:

- How has con­sti­tu­tion­al hardball played out in partisan fights over voting rights?
- Can divided gov­ern­ment function in a context of hyper-polar­iza­tion?
- What are the appro­pri­ate standards for pres­i­den­tial impeach­ment?
- What accounts for the rise of con­sti­tu­tion­al hardball between Democrats and Republicans?
- In a polarized envi­ron­ment, how can courts be de-politicized?
Participants:
Aaron Belkin (Take Back the Court)
Jamelle Bouie (New York Times)
John Carey (Dartmouth College)
Daniel Carpenter (Harvard University)
Brian Fallon (Demand Justice)
Lara Flint (Democracy Fund)
Joe Goldman (Democracy Fund)
Richard Hasen (UC Irvine)
Gretchen Helmke (University of Rochester)
Will Howell (University of Chicago)
Susan Hyde (UC Berkeley)
Sanford Levinson (UT Austin School of Law)
Steven Levitsky (Harvard University)
Dahlia Lithwick (Slate)
Sarah Longwell (The Bulwark)
Jane Mansbridge (Harvard University)
Evan McMullin (Stand Up Republic)
Russell Muirhead (Dartmouth College)
Brendan Nyhan (Dartmouth College)
Jack Paine (University of Rochester)
David Pozen (Columbia Law School)
Jamie Raskin (U.S. Congress)
Mitchell Sanders (Bright Line Watch)
Maya Sen (Harvard University)
Theda Skocpol (Harvard University)
Susan Stokes (University of Chicago)
Mark Tushnet (Harvard Law School)
Keith Whittington (Princeton University)
Benjamin Wittes (Lawfare)
Democracy's resilience: Is America's democracy threatened?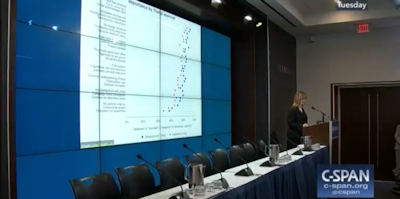 The second Bright Line Watch con­fer­ence, Democracy's resilience: Is America's democracy threat­ened?, was held at The Brookings Institution on May 1, 2018. In the aftermath of the 2016 election and during the tumul­tuous first year of the Trump pres­i­den­cy, observers across the political spectrum have struggled to antic­i­pate the likely con­se­quences for American democracy. Never before has a sitting president so harshly ques­tioned the integrity of elections, chal­lenged the sep­a­ra­tion of powers, and verbally threat­ened the freedom of the press. Partisan polar­iza­tion is at an all-time high, public trust at a historic low. For many Americans, democracy seems more imperiled now than at any time in living memory. And similar problems are afflict­ing other democ­ra­cies around the world. The Brookings Institution and Bright Line Watch brought together the authors of four prominent new books to weigh in on the status and prospects of America's democracy.
One Nation After Trump by E.J. Dionne, Norm Ornstein, and Thomas Mann
Each book offers its own unique look at how we arrived at this moment, with an American president who is sin­gu­lar­ly trans­gres­sive of demo­c­ra­t­ic norms, and how the country might best move forward. The authors discussed their books and joined a panel of experts to further examine the status of American democracy and solutions to ongoing chal­lenges facing political insti­tu­tions in the United States. Following the dis­cus­sion, the panel took questions from the audience.
How Do Democracies Fall Apart? (And Could It Happen Here?)
The first Bright Line Watch con­fer­ence, How Do Democracies Fall Apart? (And Could It Happen Here?) was held at Yale University's MacMillan Center on October 6, 2017. Conference papers are available here. Videos are available of all sessions: welcome, session 1, session 2, session 3.